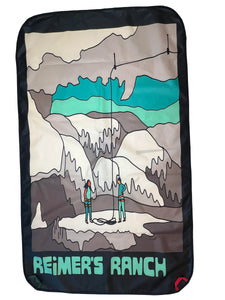 Lacadia Tarp -Reimer's Ranch
Regular price
$38.00
$0.00
Unit price
per
A Lacaida Original, this tarp's graphics were made by artist Kika McFarlane and depicts the Liposuction (5.12a).
Located approximately 30 miles southwest of Austin, Reimer's Ranch provides an excellent selection of pocketed limestone sport climbs ranging from 5.5 to 5.14. The majority of the walls overlook the Pedernales river a short distance away which provides a post-climb cool down in the summer.
In the past, climbers would usually be greeted by Milton Reimer or his wife, Joy, at the gate. For two dollars a person, one gained access to excellent climbing in a beautiful locale. The entry ticket contained the rules ("No naked parties, no beer drinkin", etc.).
Travis County purchased the property and began official operation on December 1, 2005. Starting in January of 2006, the park was open to the public 7 days a week from sunrise to sunset. 
This tarp was produced by local 501c3 nonprofit Interform, who works to create self-sustaining design-led fashion and art industry in Northwest Arkansas. 

For every tarp sold, we will donate $1 to the Texas Climbers Coalition, forever. 
Dimensions: 36" x 60"
---