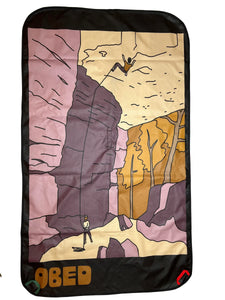 Lacadia Tarp - Obed
Regular price
$38.00
$0.00
Unit price
per
A Lacaida Original, this tarp's graphics were made by artist Kika McFarlane and depict the  cave roof Solstice (5.12a) in South Clear.
Managed by the National Park Service, Obed sits at teh confluence of the Obed River and Clear Creek.

About an hour NW of Knoxville, Obed boasts (generally) bullet hard sandstone, huge horizontal roofs, jugs and slopers. It is home to some of the best sport climbing in the Southeast.
This tarp was produced by local 501c3 nonprofit Interform, who works to create self-sustaining design-led fashion and art industry in Northwest Arkansas. 
---