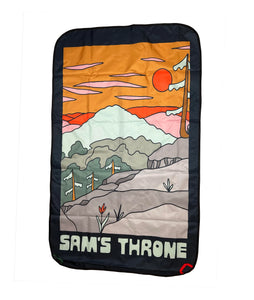 Lacadia Tarp - Sam's Throne
Regular price
$38.00
$0.00
Unit price
per
A Lacaida Original, this tarp's graphics were made by artist Kika McFarlane and depict the iconic view from this Arkansa's true original crag.
Sam's The legend of Sam's Throne goes back to the 1820's when settler Sam Davis would preach sermons from from the natural pulpit pictured on this tarp.
The birthplace of modern Arkansas rock climbing, Sam's Throne still boasts most of the best trad lines in the state, several sport routes, and some of the best free camping in the state.  
This tarp was produced by local 501c3 nonprofit Interform, who works to create self-sustaining design-led fashion and art industry in Northwest Arkansas. 
---