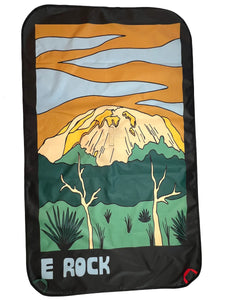 Lacadia Tarp - Enchanted Rock
Regular price
$38.00
$0.00
Unit price
per
A Lacaida Original, this tarp's graphics were made by artist Kika McFarlane and depicts the dome of Enchanted Rock. 
Enchanted Rock State Natural Area consists of over 1600 acres on the Big Sandy Creek north of Fredericksburg.
The actual Rock is a large, pink granite dome that covers over 640 acres. The major dome is over 425' high. According to the Texas Parks Service, the dome itself is one of the largest Pink Granite batholiths uncovered by erosion in the US.
The main dome lies next to a second dome, both of which are surrounded by smaller formations.
In the park, you'll find tons of established bolted and traditional routes including aid routes that go up to A3. There is bouldering aplenty surrounding the main domes.

This tarp was produced by local 501c3 nonprofit Interform, who works to create self-sustaining design-led fashion and art industry in Northwest Arkansas. 

For every tarp sold, we will donate $1 to the Texas Climbers Coalition, forever. 
Dimensions: 36" x 60"
---