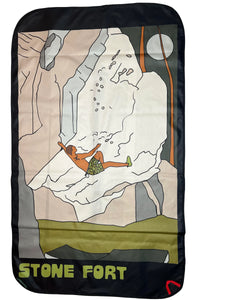 Lacadia Tarp - Stone Fort
Regular price
$38.00
$0.00
Unit price
per
A Lacaida Original, this tarp's graphics were made by artist Kika McFarlane and depict Super Mario V4.
This being a rope tarp, it's kind of ironic that it features a 100% bouldering destination. But you know, some climbers swing both ways.

With over 380 problems ranging from V-easy to V-sick, there's something for everyone.
Stone Fort is owned and on a golf course the owner just asks three simple favors of climbers: park in the designated climber parking area, sign in at the clubhouse, and pay the $9.00 day-use fee.
This tarp was produced by local 501c3 nonprofit Interform, who works to create self-sustaining design-led fashion and art industry in Northwest Arkansas.
---