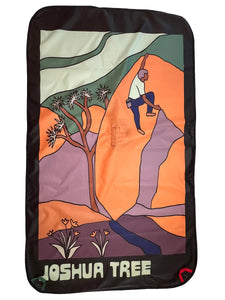 Lacadia Tarp - Joshua Tree Boulder
Regular price
$38.00
$0.00
Unit price
per
A Lacaida Original, this tarp's graphics were made by artist Kika McFarlane and depict a climber bouldering in J Tree.
Two distinct desert ecosystems, the Mojave and the Colorado, come together in Joshua Tree National Park. A fascinating variety of plants and animals make their homes in a land sculpted by strong winds and occasional torrents of rain. Dark night skies, a rich cultural history, and surreal geologic features add to the wonder of this vast wilderness in southern California. 
Joshua Tree is a world famous area with thousands of routes, countless boulder problems and a very limited number of campsites. Long popular as a winter destination, it's appeal has only grown throughout the years as climbers of all abilities have discovered the mild temperatures, grippy rock and surreal landscape which make it a must visit area on any climber's list.
This tarp was produced by local 501c3 nonprofit Interform, who works to create self-sustaining design-led fashion and art industry in Northwest Arkansas. 
Dimensions: 36" x 60"
---