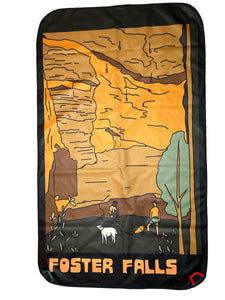 Lacadia Tarp - Foster Falls
Regular price
$38.00
$0.00
Unit price
per
A Lacaida Original, this tarp's graphics were made by artist Kika McFarlane and depict the Left Bunker, home to seven sport routes ranging 5.10b to 5.13b, and of course the 5.8 trad route, Dirty Corner.
Near the town of Jasper (just west of Chattanooga), it features high-quality sandstone, a gorgeous waterfall and scenic hiking trails.
Foster Falls is part of the South Cumberland State Park System and is monitored by SCSP rangers. 
This tarp was produced by local 501c3 nonprofit Interform, who works to create self-sustaining design-led fashion and art industry in Northwest Arkansas. 
---