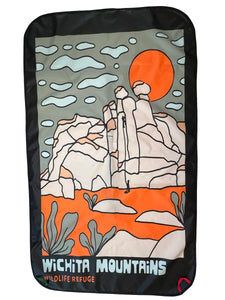 Lacadia Tarp - Wichita Mountains Wildlife Refuge
Regular price
$38.00
$0.00
Unit price
per
A Lacaida Original, this tarp's graphics were made by artist Kika McFarlane and depict the Crab Eyes', a formation with 42 routes/problems.
Known as the ultimate hard crack destination in the Sooner state, this area features full length lines with difficult cruxes on both sides of unique, crab-eye-like formation. Signature boulder formation on top.

Climbing year round. Look for the shade in the summer and sun in the winter. World Class granite is the name of the game with some nice boulders as well.
Worn by time and nature, the Wichita Mountains loom large above the prairie in southwest Oklahoma—a lasting refuge for wildlife.
Situated just outside the Lawton/Ft. Sill area, Wichita Mountains Wildlife Refuge preserves approximately 60,000 acres of mixed grass prairie, ancient granite mountains, and fresh water lakes and streams for the benefit of wildlife and the American people.
Best known for its roaming herds of bison, longhorn, and Rocky Mountain elk, Wichita Mountains also offers quality opportunities for wildlife dependent recreation including fishing, bird watching, wildlife photography, hiking, camping, and kayaking.

This tarp was produced by local 501c3 nonprofit Interform, who works to create self-sustaining design-led fashion and art industry in Northwest Arkansas. 
Dimensions: 36" x 60"
---